Evaluation of the joint capacity building pilot project under the EU Aid Volunteers Initiative (EUAV)

With a clear learning and forward looking focus, GERMAX has evaluated the Capacity Building project VinCAB, funded by the European Commission - DG ECHO. This project was implemented by 10 European Sending Organisations and 4 Host Organisations, deploying 42 European expert volunteers in capacity building projects in Latin America and the Balkans. 
Commissioned by the German Red Cross, this evaluation finally serves the establishing process of EUAV, informing the European Commission about achievements, challenges and lessons learned from this capacity building pilot project. 
GERMAX Services: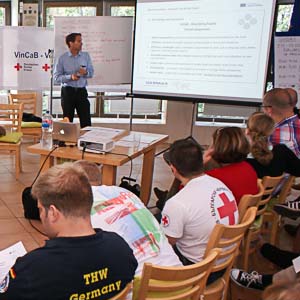 Formulation of the evaluative framework and the evaluative questions
Extensive documentary review
Stakeholder surveys followed by face-to-face interviews and phone interviews
Testing of findings during an evaluation workshop with all stakeholders (in Croatia)