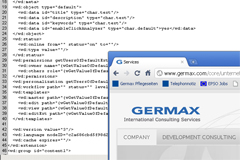 Experiences from our international assignments, both development orientated programmes and SME supporting advisory services, have shown that effective exchange of information and data processing is crucial to the success of the initiatives carried out.

Individual software solutions development is often needed if specific requirements are not covered by standard software available on the market. 
The GERMAX Solutions department develops software applications for its private and public clients to cope with the challenges of today's business environment. We are able to deploy the resources for developing adapted solutions, helping our clients to streamline their business processes, to accelerate information exchange and finally to remain competitive. Our services include:

Information system analysis
Software application development
Database warehousing concepts & system implementation
Cross Platform Integration (Windows 2000/XP/7/.NET, Unix, Linux, Apple OS)
EPR – Enterprise resource planning applications
SAP implementation services
Interim management of software development departments
In-house developer training

In past assignments with international organisations and private companies, we have successfully carried out highly complex projects in multi-lingual and multi-cultural environments. Our strength is the profound understanding of public administration procedures in Governmental Institutions and Donor Organisations and the knowledge and experiences gathered from our business consulting services to banks, engineering consultancies and the producing sector.
GERMAX solutions are highly integrated and targeted to exactly fit in with the needs of our clients. Our mission is innovative solutions in global operations for the economic benefit of our clients.