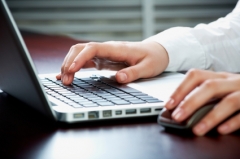 Information technology has become an essential business tool, both to improve productivity and efficiency within the enterprise and to communicate with customers and suppliers. However, implementation of these concepts has proven to be difficult and expensive for medium-sized and smaller enterprises.

GERMAX has therefore set up an advisory unit purely dedicated to the development of communication strategies in the classical and new media, focusing in particular on the needs of smaller businesses.

A team of experienced professionals in IT, graphic design and communication can provide complete and affordable solutions for all communication and information technology services, in particular for:

Software application development
Institutional training and coaching
Internet and intranet site development (Content Management, Workflow Management, Knowledge Management Systems)
Internet based marketing and communication strategies
Management information systems
Web-based survey software development

Opinion polling / web-based survey conception and ananysis


In developing solutions we cooperate with renowned European IPS and Software Producers, always trying to make best economic use for our clients through utilising standard packages, database engines and other sector specific software in connection with individually developed applications by the GERMAX IT team.