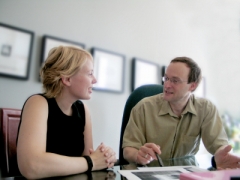 Significant experience was gained in the field of SME support and promotion, where GERMAX has worked on a number of programmes of the European Commission both within the EU and in developing countries.

These activities covered the promotion of entrepreneurship on all levels, including the organisation of business and investment missions, trade and investors congresses, sector studies and assessments, entrepreneurial development programmes, etc.

GERMAX has also worked in programmes for technical and management support to individual enterprises in Central Europe, the NIS and in Asia. These programmes provided services for:
Institutional building schemes and change management

Technical assistance to vocational training centres
Industrial sector studies and market access studies

Market access strategies, business promotion, and Public Relations

In this field GERMAX focuses always on the long-term prospects of the beneficiary company, and works with specialist teams drawn from the respective industry. Particular experience was gained with the shoe and leather industry, in the engineering and metalworking sector, and with transport and tourism.