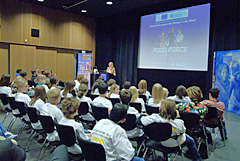 There is a growing demand for the efficient communication of public sector policy and activities, as well as for private businesses to disseminate information on ideas, services, products, goals and achievements. The targeted dissemination of information, using a well-adapted mix of channels of communication and media, is crucial to the success of most initiatives.

In this context, GERMAX provides the following set of services with proven experience in the public and private sector:

Corporate communication concepts
Internet communication concepts
Public relations management
Media production
Event marketing


To respond to the growing demand, GERMAX has set-up a department for Communication Design. GERMAX media develops individual solutions in the field of marketing and organisational communication.


GERMAX work example: Concept and layout of the FSC Annual Report 2012-13


A team composed of experienced marketing and public relation experts develops communication strategies for companies and public institutions. In small and large-scale assignments, our straightforward steps for implementation assure the best use of the available resources. We produce in classical and new media for the dissemination of information and likewise manage the entire publication process.


For references and detailed services description visit the GERMAX media Site >>