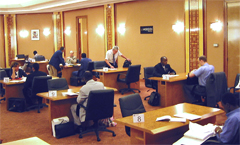 With the objective to provide effective and efficient marketing and business development services, GERMAX has developed a team of trained consultants from different educational backgrounds including economists, promotion experts, engineers and trade and investment promotion experts. 
The team is supported by sector experts covering the most important industrial sectors with importance to activities within EU accession candidates and developing countries.

The scope of GERMAX services includes:


Sector and market surveys in Europe and overseas
Formulation of business and market access strategies
Generation of business contacts and partner searches
Preparation and organisation of trade fair participations
Event marketing activities – conception and implementation
Conception and implementation of business meetings and exhibitions

With the accelerating process of globalisation and the removal of most of the trade barriers between countries, local markets have virtually disappeared and protection and competition-free zones are no longer provided. Therefore, all producers are faced with increased competition and accelerated product cycles. GERMAX supports producers in the process of tackling these new challenges and to promote their products and services in a well-targeted and efficient way.